PRACTICES
We promote replicable green practices for sustainable living.
IDIS complements its campaigns for banning and regulation of environmentally-harmful activities with positive recognition and promotion of green initiatives by local citizens.
By "green", we mean environmentally-friendly and sustainable practices that contribute to a livable city for all. This may be as simple as recycling empty containers into household vegetable gardens or as technical as assembling empty 1.5L softdrink containers into solar bottles of light. The point is, everyone does their own share for the environment.
These initiatives which range from individual, household-level in the upland areas of the third district to barangay local government units and private sector in the city's urban district are recognized annually through the Lunhaw Awards and promoted to the public for replication.
The Lunhaw Awards was launched in 2013 by IDIS, Davao City Water District, Davao Association of Catholic Schools, City Agriculturist Office, and City Environment and Natural Resources Office (CENRO) relying mostly on solicitations and contributions from each organization's funds.
In 2017, the City Government of Davao adopted Lunhaw Awards as one of its official events for the Araw ng Davao celebration. In 2018, Mayor Sara Duterte signed an Executive Order declaring September as Lunhaw month and
creating a Lunhaw Awards Committee, to be headed by the CENRO with corresponding annual budgetary support.
What makes Lunhaw Awards different?
Even after the Awarding ceremony, Lunhaw Awards finalists and winners become part of the Lunhaw Network to ensure that their green practices are continued and replicated. Beyond receiving the awards, these green advocates and practitioners are given opportunities to meet through regular Lunhaw Conversations and learning visits where knowledge is exchanged, advocacies are shared, and their networks expanded.
See Lunhaw Awardees and Finalists (2012, 2014, 2015, 2016, 2017, 2018)
Lunhaw Awards Guidelines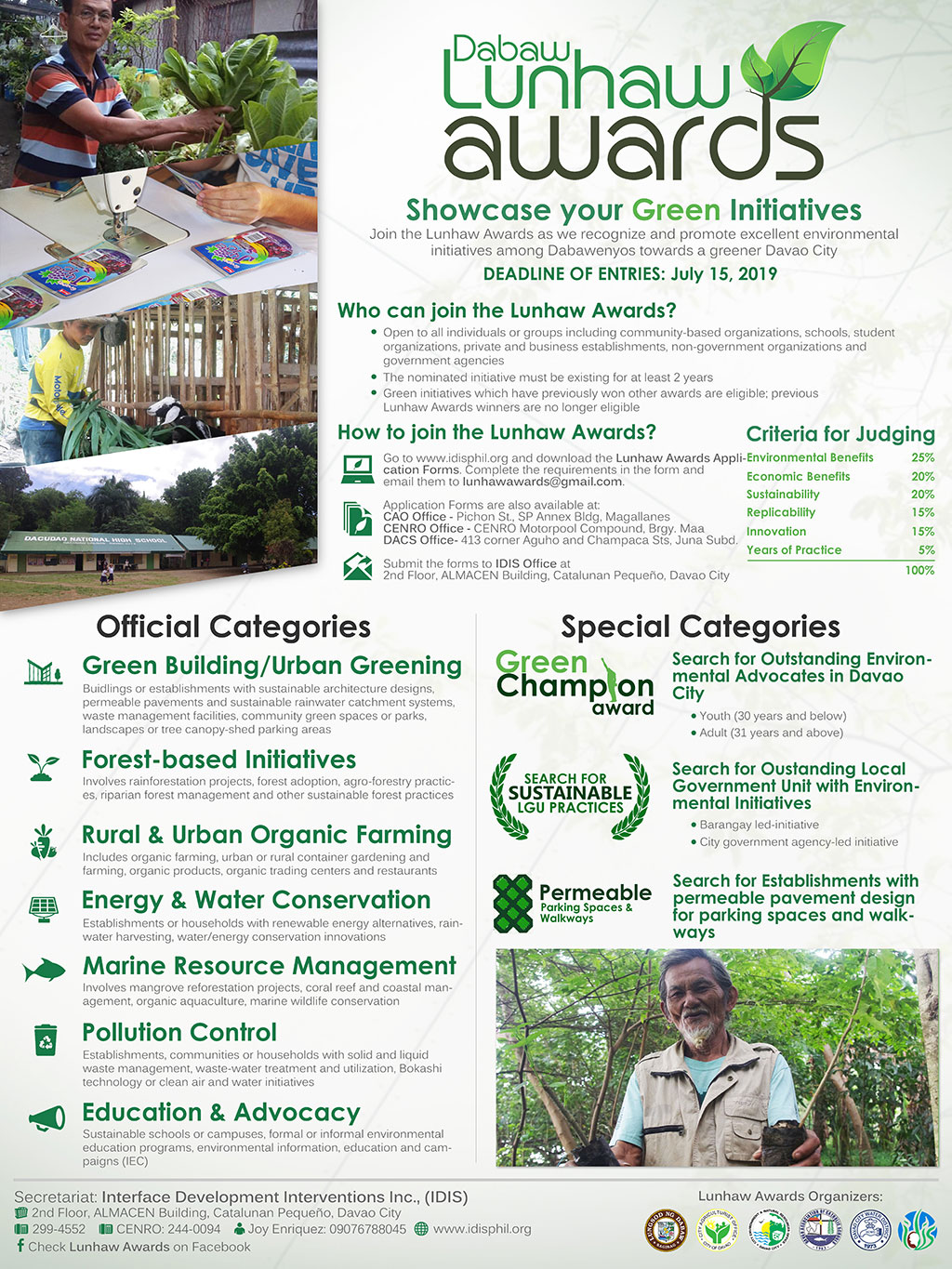 Lunhaw Awards Application Forms
Download the Lunhaw Award entry forms PDF