The Interfacing Development Interventions for Sustainability (IDIS) together with the Fertilizers and Pesticides Authority, Sustainable Integrated Area Development Initiatives in Mindanao-Convergence for Asset Reform and Regional Development (SIMCARRD), Offices of Councilor Maria Belen Acosta and Councilor Ralph Abella, and officials of Barangay Sirib and Lacson, discussed issues and concerns on plantations and the revival of the Aerial Spraying Regulation in Davao City last October 23, 2020.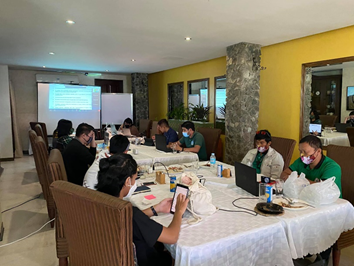 The round table discussion tackled various issues concerning the operations of agri-business monocrop plantations like banana and pineapple and the resumption of aerial spraying practice in other barangays in Davao City. IDIS through Atty. Mark Peñalver discussed the highlights of the Supreme Court decision declaring the Ban Aerial Spray Ordinance of Davao City unconstitutional in 2016. EnP Lemuel Manalo also presented the highlights and policy recommendations of the study – Mapping of Banana Plantations in South-Central Mindanao conducted in 2019. FPA XI shared that there is a memo released mandating the use of drone for aerial spraying which will somehow manage impact and minimize pesticides drift but plantation companies are yet to adopt it because of the cost efficiency concern. The participants also discussed the strict and full implementation of buffer zones in plantations. The existing local and national laws require plantations to implement buffer zones in between plantations and other land uses such as residential, institutional and protected areas.
Highlights of agreed action points include promotion of anti-aerial spray policy in affected local communities or barangays and lobby the same to their respective cities/municipalities. Further, the revival of Multi-partite Monitoring Team (MMT) in plantations was also emphasized. The FPA suggested that the Barangay Officials will be deputized as local MMT, strengthen self-monitoring of plantations, and include the City Agriculture Office to monitor good and negative plantation practices. For this to be fast tracked, and Executive Order to be issued by the City Mayor was identified as a possible option.
Chinkie Pelino-Golle, IDIS Executive Director, advised the barangay officials present to check their barangay health centers records with regard to the possible effects of pesticides and aerial spray to the health of their constituents.
Barangay Officials were also urged to lead in drafting their own regulative resolutions and ordinances especially on the plantations risk management measures, land-use management and crop conversion regulations, exact corporate social responsibility from plantation companies operating in their respective barangays, come-up with list of incentives and benefits on both plantations and barangay, and mandate plantation companies to ensure proper installation of road and drainage systems.
Finally, the Office of Councilor Ralph Abella, which is also the Chair of the Committee on Agriculture of the Davao City Council, committed to sponsor the passage of a policy that will address the issues and concerns on plantations in Davao City in accordance with the existing Organic Agriculture Ordinance, Watershed Code, and other related local and national policies.