GREEN PRACTITIONERS
We recognize and promote environmental-friendly initiatives of Lunhaw Awardees in order to build a culture of environmental stewardship in Mindanao.
Value
Davao region ranked as the country's second fastest growing economy in 2017. Davao City is Mindanao's thriving center, often compared to Metro Manila in Luzon and Cebu City for Visayas. While thriving economies provide benefits particularly to livelihood and income of local populations, the development track that we want to pursue is the sustainable one; because who wants to be the next Metro Manila?
The Lunhaw Awards is an annual multi-sectoral initiative in Davao City which recognizes individuals and groups with exemplary green initiatives in environmental management and sustainability. It seeks to encourage a culture of environmental stewardship to achieve a vision of a green and sustainable Davao City. Lunhaw is a Visayan term for green, pointing towards the main goal of having green and sustainable cities.
Threats
With massive development come numerous tolls on the environment. People affect their environments in through their extraction and utilization of natural resources for food, water and energy. How they manage their resources impact the environment which in turn affects the health and quality of life of the people. For example, consumption levels in cities generate more waste and result in high pollution. Infrastructure development and expansion of concrete areas likewise change natural landscapes resulting in clogged waterways, flooding and increased heat in urban centers. The conversion of forest areas to agriculture and expansion of pesticide-incentive modes of agriculture likewise affect waters sources and food security for local populations. Citizens may live in developed areas, earning high income, only to lose this on illnesses and disasters, both of which caused by the impact of their activities on the environment.
Role of Lunhaw Awardees
Environmentalists are often criticized for proposing "grand solutions", which are at best ideal but not applicable or doable given the local realities. Lunhaw Awardees are composed of housewives, farmers, youth and business people, among other sectors. They come from unknown villages in the upland districts and from areas that are publicly visible or popular in the urban district. They are a concrete validation that environmental-friendly practices know no age, gender, ethnicity, income level or location. Lunhaw Awards was organized to recognize and showcase these local green practices from initiatives of local citizens, thereby contributing to government and CSO efforts for environmental management. Lunhaw Awardees serve as role models to the general public testifying that sustainable living is possible, doable and beneficial amidst living in fast-paced modernizing world.
What has been done so far: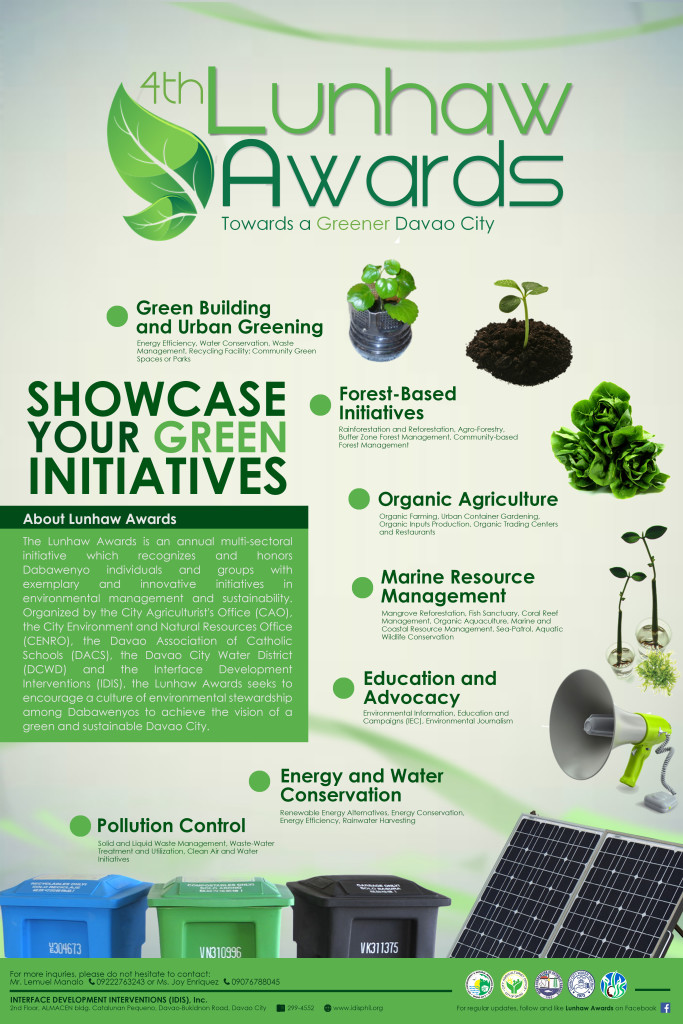 Annual Recognition of Green Initiatives
Since 2012, a total of sixty (60) Lunhaw initiatives have already been recognized under various categories which include forest-based initiatives, organic agriculture, marine resource management, green building and urban greening, energy and water conservation, pollution control, and advocacy and education. Special recognitions have also been given to green champions and LGU-initiated environmental programs and projects.
See list of winners.
September is Lunhaw Month
In Davao City, September has been declared as Lunhaw month to promote greening activities for the city. The Lunhaw Awards, the city's annual search for green initiatives, an effort initiated by both NGOs with CENRO and CAO has now been institutionalized through an Executive Order.
See copy of Executive Order here.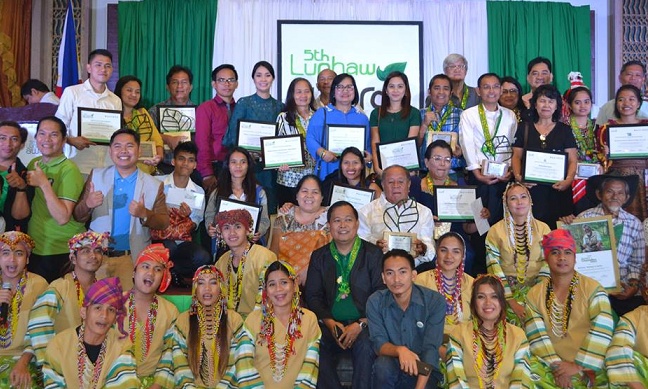 Lunhaw Conversations
A unique feature of the Lunhaw Awards is that the promotion of replicable green initiatives does not stop at the Awarding Ceremony. The Lunhaw Awardees and finalists are convened to a network where they are given the opportunity to link up with other awardees. Through the Lunhaw conversations, the Lunhaw Network is given the venue for continuous learning exchange and knowledge sharing on their innovations so these are sustained and further replicated.
What you can do to help:
Shift to green living!

Nominate a Green Practitioner

Avail of the Lunhaw Tour