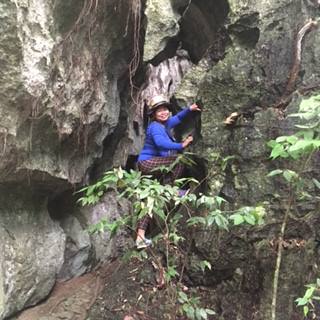 Administrative and Finance Officer
Growing up, life for Weng and her family revolved around their farm in the hilly areas of Calinan. She remembers her family planting and enjoying good harvests of rice, corn and other vegetables even without using chemical fertilizers. They had their own water wheel, rain catchers and a small creek where they swam with neighbors and friends. The creek also provided them with viands such as fresh water crabs, shrimps, and eel. Picnics during weekends were spent in Davao River or Tamugan River.
She loved the farm life where everything was natural and the cost of living was low. "You have more without spending much," she said. This is why Weng grabbed the opportunity to work with IDIS when a door opened. She admires the organization for its advocacy of protecting and caring for the environment. The things she enjoyed as a child are the same things that IDIS is trying to protect and sustain for the future generation.
When she came to IDIS in 2014, she brought in 8 years of experience in admin and finance along with a high level of integrity and reliability founded in the "need to be truthful regardless of who's around" principle, considered crucial for those working in finance. She worked for Josefa Segovia Foundation and a private business establishment prior to IDIS.
She holds a Bachelor of Science in Commerce Major in Management Accounting from Holy Cross College of Calinan and finished a short-term course on Advance and Entrepreneurial Finance from the Asian Institute of Management.
You may contact Weng at rowena.catada@idisphil.org