Bantay Kinaiyahan is the quarterly newsletter of IDIS  which focuses on watershed and organic farming issues.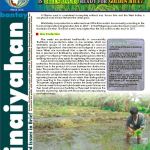 Not All that Glitters is Gold: Is Davao ready for Golden Rice?
Golden rice is the latest genetically modified crop that threatens the biodiversity of our farmlands.  Learn about the dangers of genetically modified rice and how similar genetically modified organisms may impact our watersheds.
---
 Going Organic: The Future of Farming
Learn how organic farming is our future generation's best hope for  food security. Learn the truth behind the GMO vs Organic Foods debate. Read a short profile of  one of Davao's best known organic woman farmer, Nanay Kiling Alibango, of the womens group Kababayen-an Nagtataglay ng Bihirang Lakas (KNBL).
---