Bantay Kinaiyahan is the quarterly newsletter of IDIS  which focuses on watershed and organic farming issues.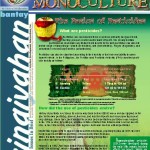 Pesticides and Monoculture
Learn about the dangerous effects of pesticides in agriculture and why monoculture plantations are dependent on their usage. Read about the government's role in pesticide usage and how stakeholders can help protect the environment from further pesticide contamination. Also includes statistical data on pesticide usage.
---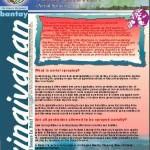 The Story of Toxic Shower: Aerial Spraying of Pesticides
A look into the practice of aerially spraying pesticides in Davao's banana plantations. Learn the issues against using pesticides in plantations. Read about the danger that the toxic pesticide drift poses to nearby communities and water resources. Also includes a list on the type of fungicides used in the aerial spray.
---
 Profit versus People
A point by point response to the banana companies' assertions on aerial spraying.  Debunks company claims that fungicides used are of low level of toxicity as well as their belief that there is no real and pressing need to ban aerial spraying.
---